Stay Connected
You're never too far away from UBC Applied Science and Engineering! Wherever you are, you can stay connected by updating your contact information to ensure you're receiving all the latest information by mail and e-mail. You can also read the award-winning Trek and Ingenuity magazines online, get news and updates through various newsletters, discover alumni stories and keep in touch with us!
Update Your Address
Moving? Don't forget to include us in your "new address" notifications. Visit www.alumni.ubc.ca or give us a call at 604-822-9454 and we'd be happy to update your contact information in the university-wide alumni database or you can do so yourself with a quick online submission.
If you're not receiving the Ingenuity magazine or invitations to Engineering events—and would like to change that—feel free to contact our APSC Alumni Engagement Office at alumni@apsc.ubc.ca or call 604-822-9454.
Join Our Online Networks
Be social and keep in touch with the alumni community! Like us on Facebook, follow us on Twitter, join our groups on LinkedIn and browse through photos on Flickr—it's a great way to keep in touch with Alumni and the Faculty.
Read Our News & Newsletters
The Faculty of Applied Science produces a number of newsletters for a variety of audiences.
Where possible, we have provided a link to the online version of these documents.
UBC Engineering News
Alumni E-Newsletter
Read the latest issue online or subscribe to the monthly alumni e-mail for updates on the faculty research, school news, alumni events and professional development. It's a quick and easy way to keep in touch with the Faculty. To subscribe, simply update your email address by contacting our APSC Alumni Engagement Office at alumni@apsc.ubc.ca or call 604-822-9454.
Ingenuity Magazine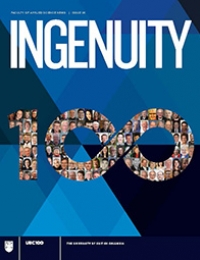 Stay connected by reading the latest news and features about alumni and Engineering at UBC in our Ingenuity magazine. Twice a year, in the spring and fall, we bring you fascinating stories about faculty research, student achievements, program updates, the latest news at UBC Engineering and more.
You can browse through the current and past issues of Ingenuity in our online archive. You may download the latest edition of the magazine to a PDF file in our archive or sign up to receive it electronically via email. You can also be added to our mailing list to receive a hard copy of this magazine. To receive printed copies of Ingenuity, please contact our APSC Alumni Engagement Office at alumni@apsc.ubc.ca or call 604-822-9454.
Engineering Department Newsletters
Our engineering departments publish newsletters annually that you can read online or subscribe to:
UBC Central Alumni News
TREK Magazine
TREK is an award-winning magazine published by the UBC Alumni Association in Vancouver. You can view current and past issues online.
UBC Nursing News
TouchPoints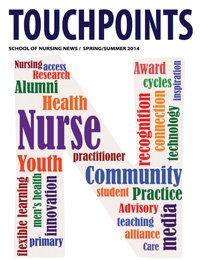 The School of Nursing's primary publication is TouchPoints, a newsletter which is published twice a year in January and July. This newsletter includes faculty and student interviews, news of the latest innovations and research, alumni success stories and recent achievements of the School and its faculty members.
View current and past issues of TouchPoints. 
Nursing Matters
The School of Nursing has a number of other newsletters designed for narrower target audiences, including the monthly eNewsletter Nursing Matters. This publication from the Office of Nursing Research and Teaching Scholarship contains information about upcoming speakers, events, newsletters, notices and abstract and funding deadlines.
View current and past issues of Nursing Matters.
UBC SALA News
Subscribe to the SALA newsletter to receive regular updates via email about upcoming lectures at the School of Architecture and Landscape Architecture: Subscribe to UBC SALA
UBC SCARP News
NewsBytes
NewsBytes is SCARP's tri-annual newsletter highlighting current announcements, recent accomplishments, events, research, and broader planning movements of interest to staff, faculty, students, and alumni, as well as prospective students and members of the community. You can view or even download the most recent and past issues of Newsbytes online.