Old Red New Red 2017

Old Red New Red is your annual tradition to connect with fellow classmates and current students and judge the ball models. This year, due to student schedule, E-Week has moved to January, so there is a new date for Old Red New Red! The big bash will be on January 19, 2017. We will have Dr Doug Dean, BASc '78, PhD '85 and Dr Andre Marziali, BASc '89, speaking to us from their "Old Red and Older Red" perspective! Read below to find out more about Dr Dean and Dr Marziali!
Event Details
Date: Thursday, January 19, 2017
Time: 6:00pm - 8:30pm
Venue: Engineering Student Centre
For more information please contact Tara Newell, Alumni Relations Coordinator, tara.newell@ubc.ca.
Presenters
Dr Doug Dean BASc '75, PhD '85
Doug is an occasional independent business advisor and board member when the challenges are interesting enough.  Since quitting work several years ago at age 55, he has focused on climbing, driving fast cars, ice hockey sports photography, and staying calm during the various crises of his kids.
During his 30 year professional career, Doug has been the Senior Vice President of Research & Development at Philip Morris International; Vice President Global Business Services at IBM; Senior Partner Global Pharmaceutical Practice at PricewaterhouseCoopers; European Marketing Manager at the Digital Equipment Corporation; Director of R&D at Dynapro Systems; and a Medical Researcher at the Shaughnessey Hospital Medical Engineering Resource Unit. He has lived and worked in Canada, England, Germany and since 1993 in Switzerland.
Doug has a PhD in Electrical Engineering and a Bachelor of Applied Science in Engineering Physics, both from the University of British Columbia, Canada. He is widely published with over 100 articles and presentations in the professional literature.
He is an active alpinist and mountaineer with ascents all over the world from the arctic to the Himalaya, although he has failed to climb Switzerland's Eiger North Face five times. Along with his much smarter Irish wife, Fran, he is a passionate Ferrarista and has had driving lessons from Fernando Alonso at the private Ferrari Fiorano racetrack in Italy.
Doug supports the Montréal Canadiens and the New Zealand All Blacks; he enjoys cigars and whisky and occasionally ponders alternative approaches to proving the Riemann Hypothesis. His best lap on the Mugello track in Italy is 02:05.833s which is 1.105s slower than André Marziali. This has to change.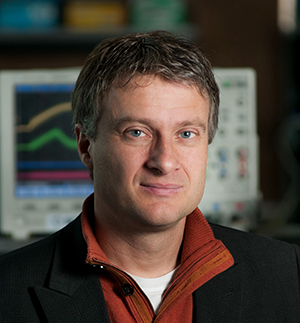 Dr Andre Marziali BASc '89
Andre Marziali, P.Eng., is the director of the Engineering Physics program at the University of British Columbia (UBC) and founder and chief scientific officer of Boreal Genomics. Marziali co-invented the concept of using synchronous mobility perturbations to create divergent velocity fields for selective focusing of nucleic acids, the technology which forms the basis for Boreal Genomics's platforms. Today, Boreal Genomics continues to develop breakthrough technology for non-invasive, real-time detection and monitoring of tumour mutations.
Marziali received his Bachelor of Applied Science in engineering physics from UBC and his PhD in physics from Stanford University.
Marziali is Co-Director, Technology Development of Genome British Columbia and recipient of multiple awards including: the BC Innovation Council Young Innovator award (2004); the Association for Lab Automation Innovation Award (2007); and the Life Science BC Award for Innovation and Achievement (2011).