Why new research in concrete could save BC homes
When a deadly 6.3-magnitude earthquake hit Christchurch, New Zealand, in 2011, over 60 per cent of concrete buildings three storeys or higher in the downtown business district had to be demolished as they were no longer safe to live or work in.
Structural engineer Dr. Lisa Tobber, an assistant professor in the School of Engineering within UBC's Faculty of Applied Science, wants us to consider what this scenario means for British Columbia — a seismically active region that is waiting for the "Big One" to strike, and where buildings are designed to preserve life rather than remain safe to reside after an earthquake.
"As we saw in Christchurch, a lack of resiliency has major ramifications. Buildings that aren't required to be structurally sound after an earthquake end up getting demolished," said Dr. Tobber.
"Here in BC, that could lead to hundreds of thousands of people who are suddenly homeless because their mid- or high-rise building isn't safe to return to after a disaster."
Designing against disaster
Dr. Tobber leads a research group that is advancing knowledge of how to design and construct disaster-resilient buildings. She is particularly interested in concrete – a material of choice in high-rise buildings for its durability and versatility.
She is being awarded the BC Housing Professorship in Resilient Reinforced Concrete Buildings, which will enable her to play a leading role in guiding interdisciplinary research in this area.
Dr. Tobber acknowledges that concrete, while known for its longevity, is not a perfect material. Concrete is a major contributor to greenhouse gas emissions, and concrete construction is time consuming and requires specialized labour, something in short supply these days.
Her research is looking at ways to reduce the environmental impact of concrete construction while creating more resilient structures through the seismic design of precast buildings, using hybrid systems (like wood framing and reinforced concrete core walls), integrating new and more sustainable kinds of concrete materials, and adopting earthquake-resilient structural systems and technologies.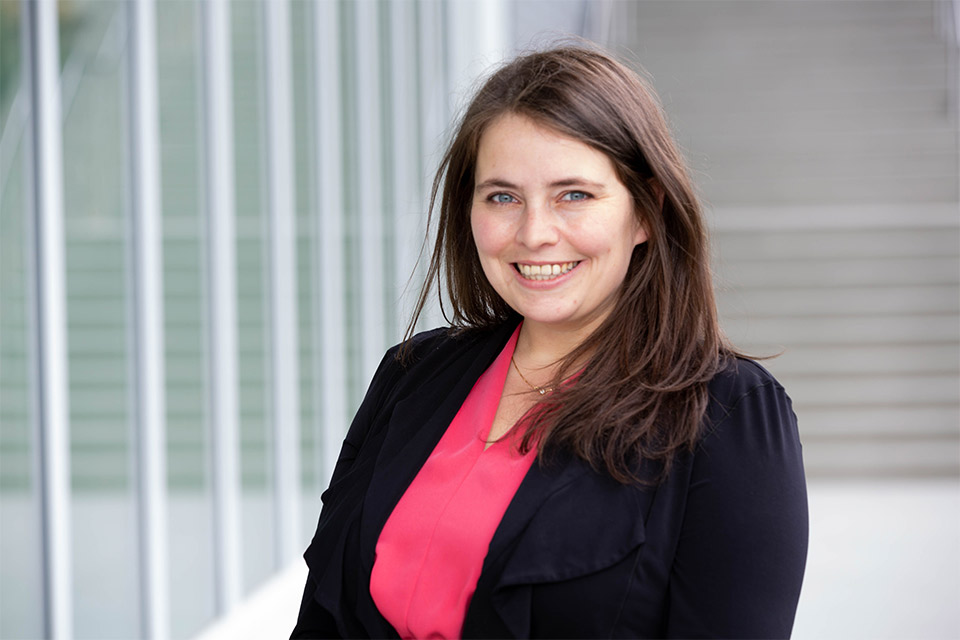 One solution she's investigating is the use of innovative coupling beams and damped outrigger systems that dissipate energy and reduce damage to core walls.
These and other technologies are being developed with the aim of raising best practices in sustainable, resilient building construction.
Another focus is precast concrete, which is commonly used in Ontario (in some municipalities, accounting for up to 60 per cent of construction) but not used extensively in BC.
This construction method offers many advantages, including significant cost savings and far greater quality control with concrete cast in a temperature- and humidity-regulated environment.
In her work with the Canadian Precast Prestressed Concrete Institute, she is developing seismic design guidelines for precast concrete to enable more widespread usage.
Buildings that aren't required to be structurally sound after an earthquake end up getting demolished. Here in BC, that could lead to hundreds of thousands of people who are suddenly homeless because their mid- or high-rise building isn't safe to return to after a disaster.
Dr. Tobber and her team conduct rigorous experiments across both UBC campuses in Vancouver and the Okanagan, using structural testing facilities complete with strong floors, reaction walls and cranes, to test and collect data on how specific building elements perform under earthquake-level forces.
"Facilities are key to this research. We cannot implement new materials, devices or structural systems without understanding how buildings behave during a natural disaster, or once damage has occurred."
Data in hand, they create new simulated models on how structures respond to earthquakes and other disasters, and use this information to propose safer designs and more resilient buildings.
"New approaches to reinforced concrete construction are not necessarily more expensive, but they aren't always prioritized," said Dr. Tobber.
"'Luxury' buildings can have high-end finishings or avant-garde designs, but they don't necessarily go above and beyond the building code when it comes to safety and resiliency.
"I want to change this – to have us build infrastructure that is sustainable, resilient to climate disasters and earthquakes, quick to construct, architecturally striking and economical."
Changing industry best practices
Dr. Tobber believes that interdisciplinary partnerships will be key to achieving this goal. As someone who works closely with several engineering consulting firms and construction companies, she sees first-hand how research and industry collaboration can lead to tangible change in our built environment.
Her new BC Housing Professorship will enable her to guide the interdisciplinary research on structures and materials that will inform building code amendments and changes to best-practices design guidelines.
She is now seeking to gather other researchers and industry partners who want to develop holistic solutions and have a bigger impact in disaster-resilient construction.
"The research generated by my industry collaborations and this professorship should be of great interest to developers and decision-makers, the people who have the power to build better," she said.
"The barriers to adopting new technology are not so much engineering challenges as they are the challenges of bringing together people from numerous disciplines to work towards making disaster resilience a priority."
Partner with UBC Applied Science
Learn how your organization can support this collaborative research.
Strategic Priority Areas: