On the fast track: Tesla's drive to recruit UBC Engineering students for tomorrow's challenges
Tesla returned to UBC Vancouver for its first major recruitment drive on campus since the pandemic, to meet with and attract UBC Engineering talent.  
On November 1, Tesla held three information sessions for UBC Engineering students across a variety of disciplines (design engineering, mechatronics, electrical and computer engineering), delivered a keynote on climate change, and met with five automotive engineering design teams (UBC Baja, UBC Supermileage, UBC Solar, UBC Formula and UBC Formula Electric).   
"At Tesla we really value students' fresh perspective and willingness to challenge the status quo," said Satyan Chandra, semi-truck engineering lead, who delivered the keynote tech talk to UBC students. "They come to the table un-adulterated and aren't limited by unnecessary constraints or roadblocks. That's incredibly powerful in thinking far outside the box."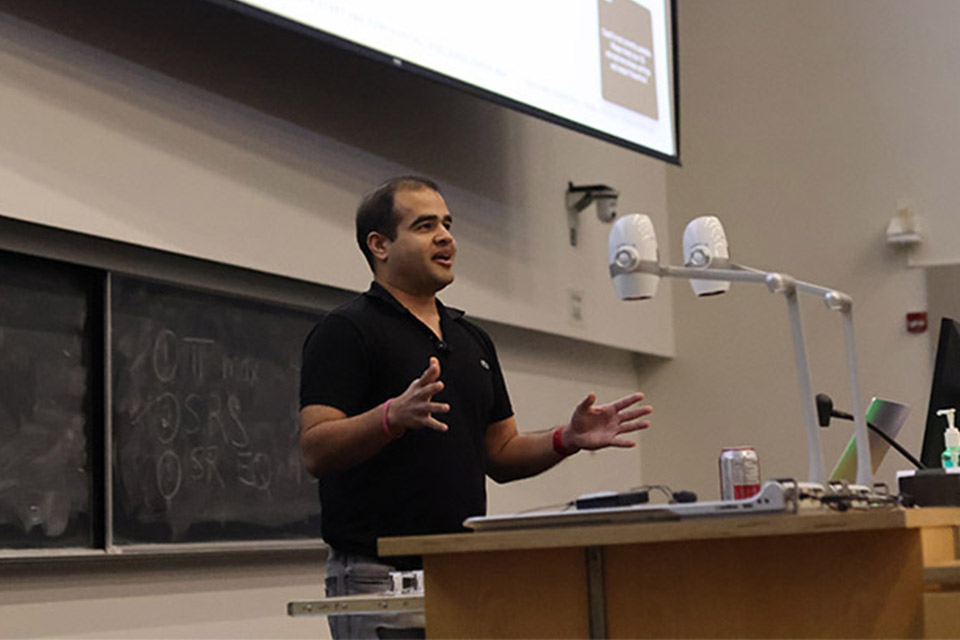 Students are crucial to Tesla's mission to accelerate the world's transition to sustainable energy, and are given significant responsibilities, often working on large-scale, high-impact projects to address real-world problems across Tesla's operations.  
Tesla has hired more than 115 students from the Faculty of Applied Science Co-op program. UBC Engineering creates a pathway to success by providing students with robust problem-solving skills, deep understanding of their engineering disciplines and hands-on experience through design teams and co-op placements.   
Chandra emphasized that while the climate and energy challenges are complex, students and young engineers have a pivotal role to play in addressing these, particularly around the issue of consumption. Students can put their critical and analytical thinking skills to work to develop innovative solutions to reduce consumption per capita and, in turn, combat climate change effectively.  
Tesla currently offers year-round internships in a variety of positions, from assisting with the construction management of new Gigafactories to roles in firmware, powertrain, manufacturing, controls software and robotics.
Tesla's visit and continued partnership with UBC is testament to the exceptional qualities and skills that UBC Engineering students bring to the table in addressing the problems we face today.  
Strategic Priority Areas: