Mario Kart robot racing, UBC Engineering Physics style
Seventeen teams of UBC engineering physics students raced fully autonomous robots head-to-head in the 23rd annual engineering physics competition with a Mario Kart theme last Thursday, August 10.
Robots raced along a track that included a Rainbow Road and a zipline for those who dared to "glide" across a section of the course, with points awarded for completing laps, and picking up and holding onto mystery blocks or coins.
There was also a catch: one of the mystery blocks was a "bomb" that, if picked up or tipped over, forced a lap restart and a loss of any points scored on that lap.
Each robot was allowed to drop one "banana" (a sheet of coloured paper designed to fool a competitor's sensors) and one "bomb" of their own.
After several rounds, Team 4's robot 'Sharp' won the most points and took home the coveted trophy – delivered on an autonomous robot amalgamated from previous years' robots.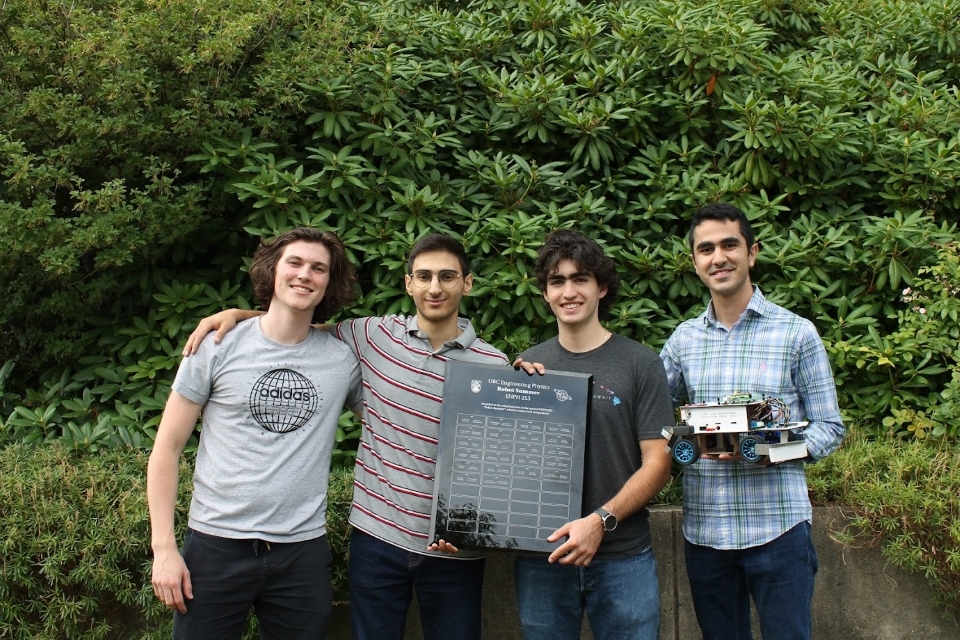 "The students worked on these robots all summer and things really intensified in the last few weeks. Students were here from 10 am to 9 pm every weekday and we even opened the lab on weekends," said Dr. Andre Marziali, professor and director of the UBC engineering physics program.
"Students used hand tools, microcontrollers, semiconductors and custom software — some for the first time, and it was amazing to see the progress they made in a few short months. This was the first time in more than a decade that we allowed robots to run head-to-head, and the crowd's enthusiasm was infectious."
A head start on a high tech career
The Engineering Physics program's Introduction to Instrument Design course (ENPH 253) teaches prototyping skills used in modern product development, aiming to help equip students for careers in artificial intelligence, biotechnology, quantum computing and other fields that call for deep physics knowledge and practical engineering skills.
These students will graduate in a few years and go on to build the next generations of robots, quantum computers and medical technologies, with many founding and leading tech companies in B.C., added Dr. Marziali.
"Three of B.C.'s biggest recent tech success stories, AbCellera, Precision NanoSystems and StarFish Medical were all founded by our graduates. The skills really do start here. If you can build a truly autonomous robot at the end of your second year of university, that's a great head start on a high-tech career."
Past competitions have involved an Avengers-themed battle between good and evil, search-and-rescue and wall-climbing robots.
Strategic Priority Areas: