Engineering Students Showcase Capstone Projects at Design and Innovation Day
On April 11, 2023 the annual UBC Engineering Design and Innovation Day event provided students with the opportunity to present their Capstone projects through interactive exhibits and hands-on demonstrations.
Design and Innovation Day is UBC Engineering's annual showcase for student engineering design projects. Carried out in small groups over the previous academic year, the projects enable students to improve their technical, teamwork and management skills while designing solutions to real-world problems.
Below is a list of the most outstanding projects of the year and winning teams, as selected by their individual units. We are incredibly proud of all the work accomplished by the students and look forward to seeing how their projects create impact.
Chemical and Biological Engineering
Team B1 - Utilizing Captured Carbon for Astaxanthin & Fertilizer Production by Chlorella vulgaris
Team members: Lisa Hochhausen, Meghan Cooke, Siba Saleh, Adam Leung, Chris Webster, Amelia Dai, Cindy Lam and Veronika Zenova
Working with the applied research group from Teck Resources, to support their goal to achieve net-zero emissions by 2050, this team helped develop a theoretical design for an industrial-scale microalgae plant to sequester carbon dioxide annually from a single point source. After working through numerous scenarios, they ended up designing a process and facility that could result in the biological sequestration of 2,000 tonnes of carbon dioxide annually.
Image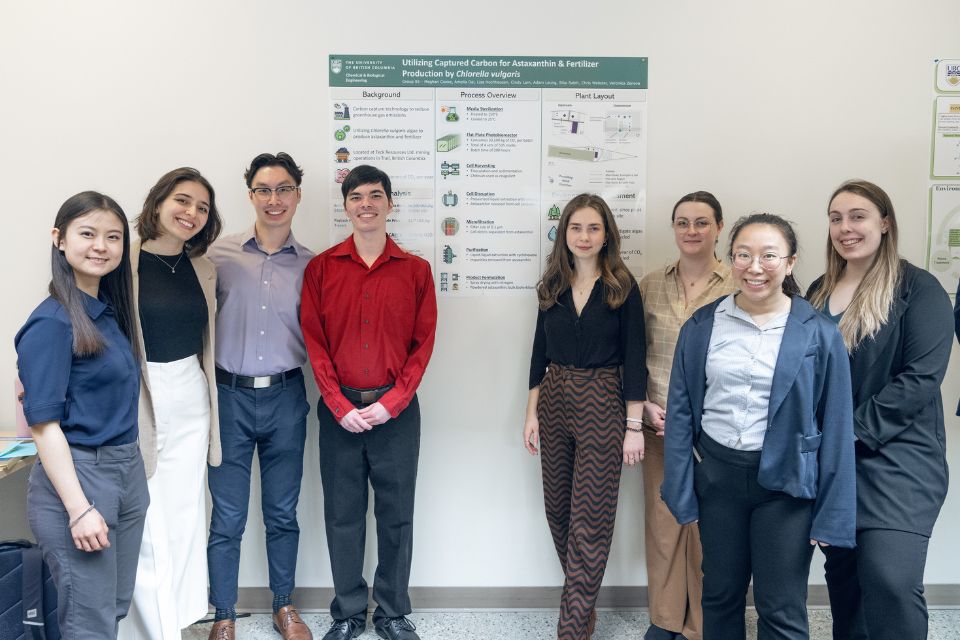 Team B2 - Production of Chromate Reductase using Chlorella Vulgaris microalgae
Team members: Harry Ooi, Xavier Alhashemi, Kenzie McRae, Shibo Wang, Adam Summerfelt, Cassia Jean, Miki Gravelle and Calife Li
This project proposes the large-scale production of chromate reductase (a naturally occurring enzyme found in chlorella vulgaris microalgae), which allows for hexavalent chromium (a highly toxic carcinogen that is found as a byproduct in many industrial processes) to be treated at the source and subsequently discharged into the environment in a safe manner.
Team B3 - Feasibility of Biohydrogen Production from Dark Fermentation
Team members: Aloysius Lum, Ken Huang, Coryn Topham, Jisoo Choi and Emmanuel Cortez, Dina Shehata, Gabriel Yang and Hong Li
Biohydrogen production using dark fermentation is a promising technology for sustainable energy production. Dark fermentation uses microorganisms to break down organic matter, such food waste, in the absence of light to produce hydrogen gas. The proposed system utilizes dark fermentation and anaerobic digestion to continuously produce biohydrogen and biomethane, respectively. Separate gas upgrading systems can purify the biohydrogen and biomethane for later use.
Team P1 - Production of Sulphuric Acid from Acid Gas in Oil Refineries
Team members: Stephanie Hasjim, Jimi Lee Tracey Wang, Tony Ma, Simran Gandhi, Crisella Harsono and Arshan Mansoor Ali
This project focuses on designing and assessing an innovative H2SO4 plant downstream of an oil refinery in Alberta. By utilizing acid gas directly to produce sulphuric acid, they eliminate the need for intermediate steps which lead to the production of sulphur powder, thereby streamlining the production process and reducing environmental impact.
Team P2 - Bio-Silica Production and Energy Recovery from Rice Husk Gasification 
Team members: Adib Zakaria, Aidan Kiel, Bashirah Salami, Clive Indrawan, Fortune Komolafe, Joya Yamagishi and Sam Oladoyinbo
This project involves the design of a process to extract 15,000 tonnes/year of metallurgical grade silica from rice husk waste via gasification and to generate 50 GWh/year of energy from the gasifier flue gas. Additionally, this project addresses the issue of uneven distribution of high-quality silica worldwide by helping to meet the growing demand for silica in the Asia-Pacific region. By using rice husk as a feedstock, this project repurposes the agricultural waste generated in rice-producing countries into a valuable product with uses in the agrochemical, food, and rubber industries.
Image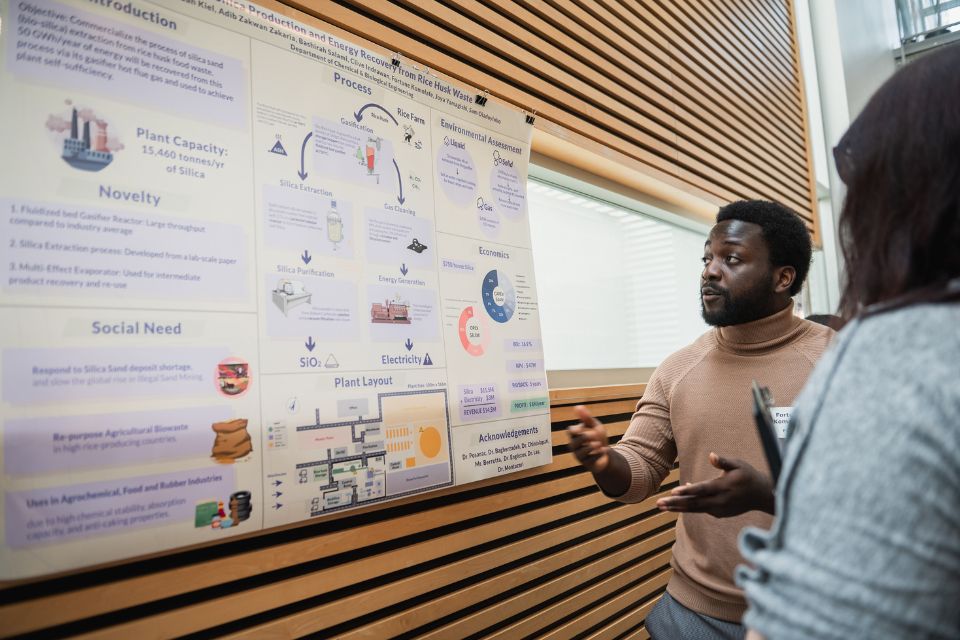 Team P9 - Production of NMC Hydroxide from Lithium-ion Battery Black Mass
Team members: Engin Deniz, Julie Jung, Finn Lawlor, Keagan Read, Lily Scholtens, Catherine Brochard-Lalande and Aidan Mitha
This team proposes recovering metals (nickel, manganese & cobalt) from waste batteries for the production of new batteries using 3 major steps; leaching, impurity removal & co-precipitation.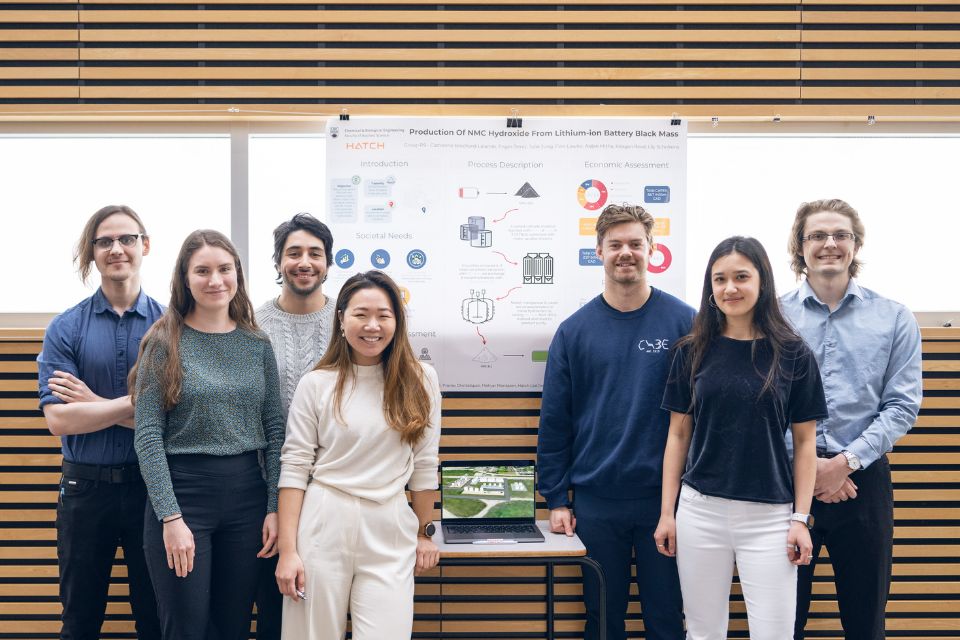 Team 10 - Improving 16th Avenue for Walking, Biking and Rolling
Team members: Adi Henegar, Bahati Msakamali, Jasmine Ma, Jeremy Karkanis, Leah Grundison and Veer Joshi
Team 10 has designed a steel bridge structure that raises W. 16th Avenue above a dedicated multimodal crossing path. The grade-separated crossing design ensures user safety by eliminating risk of collision between vehicles and pedestrians and enhances traffic flow by allowing vehicles to pass the crossing location without need for stopping. Additional improvements to the area have been introduced through the design of stormwater management features and implementation of enhanced traffic signage.
Electrical and Computer Engineering
Team AI-26 - Avionics Integration Test Bench System (AeroSim)
Team members: Isabelle André, Andrew Hanlon, Patric McDonald, Anthony Wang and Nursultan Tugolbaev
AeroSim is an engineering test tool consisting of an interface device and software package that allows users to communicate with avionics equipment from a computer. The user can generate various aircraft flight parameters to be sent to equipment under test and read data from the equipment simultaneously. This product will help engineers at KF Aerospace prevent time consuming and expensive pitfalls during avionics equipment integration projects on commercial aircraft.
Team JY-82 - Nylon Artificial Muscles in Actively Contracting Compression Stockings
Team members: Adriana Cowan, Magan Chang, Tony Huang and Jacinta Li
Working with the UBC Molecular Mechatronics Lab this team designed a textile prototype that generates adequate compression pressures for the treatment of Post Thrombotic Syndrome (PTS). With excess blood pooling in the legs, people with PTS experience swelling and chronic pain that interferes with day-to-day life. The solution this team proposed is to develop actively contracting compression stockings using nylon actuators as artificial muscle. They are currently developing prototypes to test on individuals with PTS an this is the subject of ongoing research at UBC and possible commercialization.
Team SF-60 – Neesh, An LGBTQ2+ Community Mobile Application
Team members: Amir Ali Barkam, Arnold Ying, Justin Hua, Trevor Flanigan and Yisheng Liu
Based on a design provided by Community Partner: QRated Studios, this team built a functional prototype of a mobile app that serves as a reliable ally for the LGBTQ+ community. Neesh provides a space to engage in meaningful dialogue without fear of judgment or misunderstanding. Users can ask questions, share personal experiences, give and receive advice, and access a wealth of resources, all while maintaining their privacy and feeling safe due to stringent measures that ensure the safety and security of users, with robust moderation and strict community guidelines.
Team 330 - ReMold, Shaping Sustainable Composite Manufacturing
Team members: Kayla Butcher, Arif Janmohamed, Rachel Cummings, Arthur Speirs and Evan Richardson
ReMold is an adaptable molding machine designed to shorten the design cycle and enable fast and low-waste product prototyping and iteration. What sets ReMold apart from traditional mold-making is its unique ability to adapt its surface shape to match user-input CAD models. The team is highly committed to the ongoing development of this project and is exploring opportunities to continue their work through the Applied Science New Venture Design course or future IGEN projects.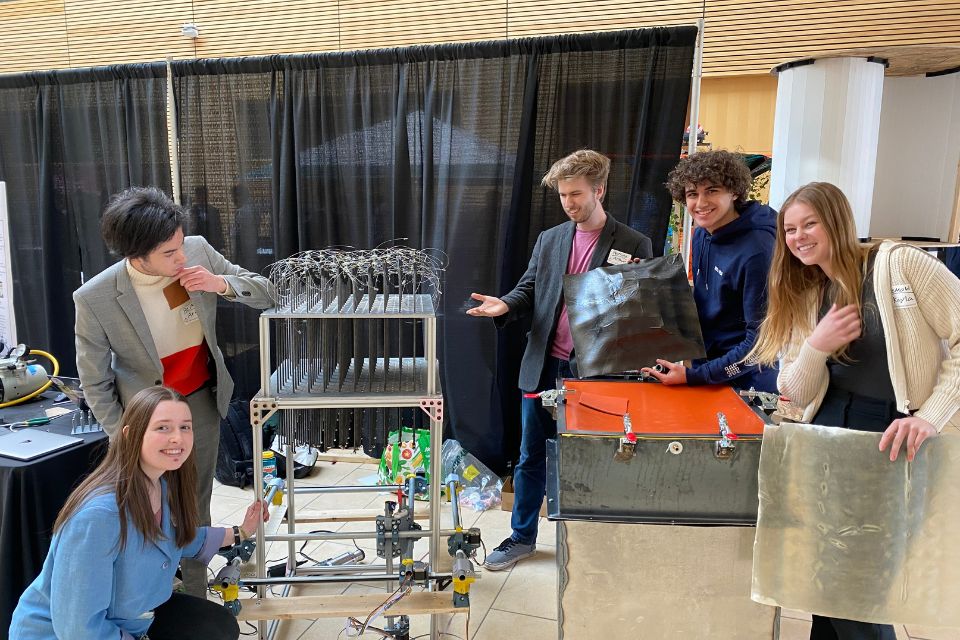 Team 230 - SCSSR (Super Cool Super Stable Rocket) 
Team members: Nelson Fretenburg, Reid Ong, Tristan Brown, Nathan Tourvielle and Jeffrey Shwe
This project aimed to address the challenge of stabilizing rockets as they land, to aid in the effort to create reusable rockets. The team focused on stabilization in a testing stand but in future iterations will aim to build a fully functional rocket capable of self-landing.
Image
Team 430 - 'Foosbot', The Autonomous Foosball Opponent
Team members: Nick Lee, Anton Chu, Niko Andrianos, Jose Pablo Palero, Mark Wheaton and Brendan Lai
The Foosbot team designed and built a foosball table robot that operates as a single component. The system consisted of mechanical, electrical, and software components split between the members.The software system utilized a GoPro camera that tracked the ball in real-time. The project in its final stage achieved an elementary player level where it was inclusive to play against all foosball levels.
Image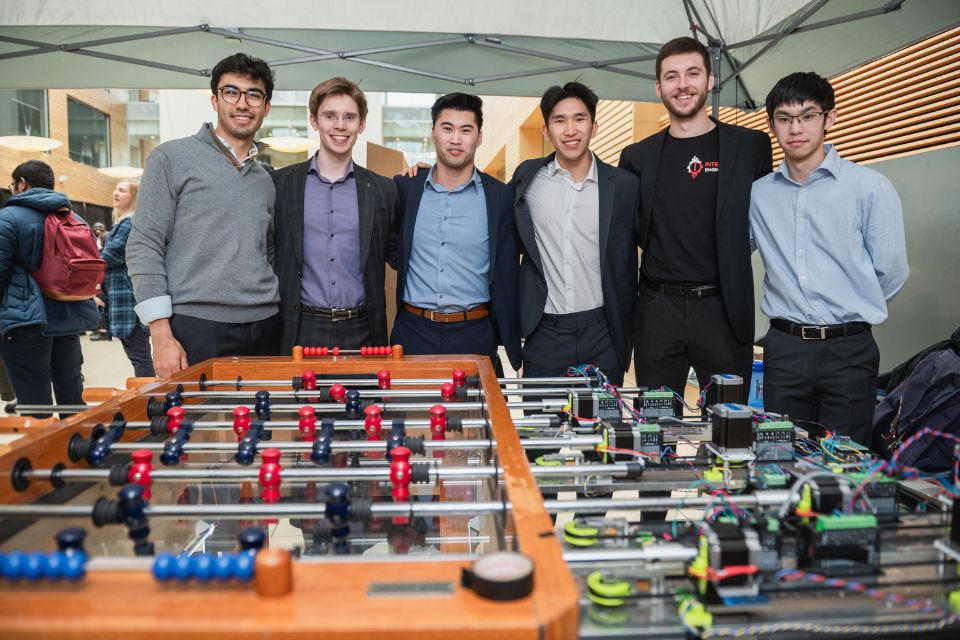 Manufacturing Engineering
Plastic Recycler – Producing 3d Printer Filament From Recycled Material
Team members: Sheena Yan, Joshua Metz, Charlie Picicotto, Ryan Pederson and Ethan Sun
This team was asked to design and build a system to recycle the plastic waste from the Manufacturing Engineering laboratory into usable 3D printer filament. They designed a plastics shredder and a filament recycler; with these subsystems together the MANU laboratory can now reuse plastic waste by grinding it up and extruding it into their own 3D printer filament.
Team 8 – Intuitive - Endoscope Test Fixture Mount
Team members: Phoebe Cheung, Joshua Ho, Cameron Lee-Ming and Adam Metwally
Working with Intuitive Surgical Inc., a leader in the field of robot-assisted minimally invasive surgery with their Da Vinci Surgical System, the goal of this project was to design a universal mount for supporting endoscopes during testing such that the center axis position is held constant regardless of the endoscope's diameter.
Image
Team 11 - Low G-Force Microwell Plate Centrifuge 
Team members: Tate Kolton, Sarvesh Ramalingam, Matthew Howard, Kiana Izadi and James Whittemore
In partnership with UBC Mechanical Engineering Associate Professor Dr. Hongshen Ma, this team designed, manufactured and delivered two centrifuges to apply a precise range of forces to experimental samples contained in microwell plates. Microwell plates are a standard piece of laboratory equipment used by researchers at the Multi-scale Design Laboratory to hold samples for their research.
Team 18 - Variable Friction Simulation Device for Human Balance Research
Team members: Raymond Cormier, Aidan de Jong, Gabrielle Froese, Emma Jackson and Sander Keil
Working with the UBC Sensorimotor Physiology Lab, the goal of this project was to create a device that simulates standing on a surface with variable sliding friction. This team developed a pair of ball-screw driven linear stages, each with a force-sensing plate, which can be set up for medio-lateral or anterior-posterior motion. The SMP Lab plans to begin experiments using the device and hopes to eventually expand it into a four-axis system.
Team CockcroftMaijer2 - High Pressure Die Casting Shot Sleeve Insert Failure Analysis
Team members: Tejbir Bindra, Shahil Hamid, Ailish Chauhan, Arnav Kapur, Anshul Khattar, William Yun and Sandeepan Dutta
This team worked for Magna International, an original equipment manager to analyze an industry-wide problem with shot sleeve insert degradation and provide failure analysis for the same. The team used provided samples to determine the cause of the failure and then proposed alternate design decisions to help increase the operational lifetime of the insert. These recommendations will be used to guide design decisions for future industry developments.
SeaBrick
Team members: Sydney Kusch, Colton Routtenberg, Taylor Wheatley, Teodora Cosovic, Giovanna Janes and Matthew Paulino
SeaBrick is intended to be a marine building material and a potential replacement for concrete. New factors, variations, and ideas continue to arise after numerous iterations. Future work will include further experimentation in finalizing compositions and manufacturing processes, as well as testing different material properties that will help SeaBrick achieve the desired geometry for interlocking, and optimal density to strength values.
Team 1 - The Art-ery of Healing: Early Pseudoaneurysm Detection
Team members: Andrea Gonzalez, Amarpreet Powar, Alisa Da Silva, Jessica Jung and John Cookson
Working with Dr. David Liu, Radiologist and Associate Professor at UBC, in partnership with Dr. York Hsiang, Vascular Surgeon and Professor at UBC, and Dr. Fabio Accorsi, Radiologist and Interventional Radiology Fellow, these students developed a take-home, early-detection device to screen for pseudoaneurysms post interventional treatment. No take-home monitoring technologies exist for femoral pseudoaneurysms, making this device unique.
Team 13 - The LUNAR System (The Lower-extremity UNobtrusive Athletic Research System)
Team members: Mona Behrouzian, Genna Bonnor, Shealie Lock, Atoosa Mahmoudian, Mona Pei and Meriem Satra
Working with Dr. Tim Bhatnagar, Director of the Motion Lab at BC Children's Hospital, this team created a wearable, sensor-based device capable of measuring knee kinematics on-field. The device is designed to capture the natural, unrestricted movement of pediatric soccer athletes and communicates that data to researchers, who can use the information to create standardized metrics of ACL injury risk factors.
Team 19 - Compostable Diapers             
Team members: Johnny Cai, Wendy Ma, Sabiha Sultana, Hannah Tesch and Alex Jung
With guidance from Rashmi Prakash, co-founder of Aruna Revolution Health Inc., and faculty supervisor Anna Blakney, Assistant Professor at UBC, these students created a diaper prototype that can compost under the right conditions in a municipal composting facility. All the raw materials used in their design are from plant-based sources and/or food waste, making this diaper truly sustainable.
Have a project idea? Get in touch! Capstone instructors are now seeking community partners. Applications are due mid-August.
Strategic Priority Areas: