"You can have a big impact as an engineer by focusing on small things."
Dr. Sumi Siddiqua's research on soil micro-organisms is paving the way for new geomaterials with significantly lower carbon dioxide emissions than traditional materials used in the construction industry. She's also working to keep our groundwater safe by finding more effective ways to stop microplastics in landfills from moving into water systems.
Program:
Campus: Okanagan
Website: School Profile
Education: PhD in Civil Engineering (Cardiff University, United Kingdom); MASc in Engineering and Applied Geology (Asian Institute of Technology, Thailand); BASc in Civil Engineering (Khulna University of Engineering and Technology, Bangladesh) 
Why did you decide to study engineering?
I was always good in math and science, which put me in the direction of medical school or engineering. However, blood makes me dizzy, so medicine wasn't an option!  
I was very interested in micro-organisms and science-based research, and through that began focusing on engineering applications to explore how modifying soil quality and properties can generate various benefits.
"Although my work is grounded in microbiology, my perspective as an engineer is different from that of a scientist. I'm interested in what's required to create an environment for specific bacteria to grow so that soil might have desirable physical, chemical or mechanical properties."
Tell us about your research on soils. 
I'm a geo-environmental engineer who studies soils and the environment. Soil is a very interesting and exciting material, and as a natural product it has different qualities depending on where it's found.
Image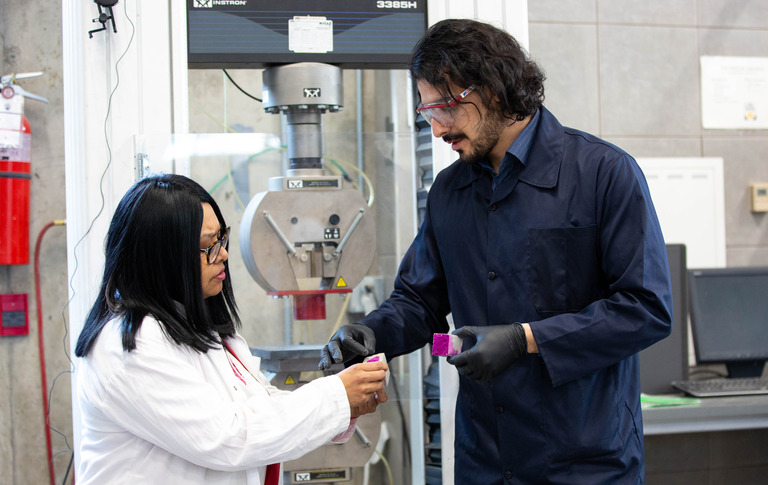 "When you're doing any kind of construction, you need to start by knowing the soil."
One of my main research areas is exploring how micro-organisms can improve soil quality for applications in the construction industry. I'm investigating common industrial by-products – like fly ash that is produced as waste in the pulp and paper industry – and seeing if we can use that waste in other applications, like as a low-carbon soil binder to improve ground conditions when constructing roads or buildings. This uses a product traditionally considered waste and can also result in lower carbon dioxide emissions because you need less cement and are sequestering carbon in the material itself. 
Another big issue I'm examining is the prevalence of microplastics. I'm looking at ways to prevent the movement of microplastics from landfills into our groundwater by developing barriers that use soils or industrial by-products to capture these microplastics.
How do you do this research? 
I am the leader of the CFI-funded Advanced Geomaterials Testing Lab at UBC Okanagan. For some of our microstructural analysis we use high-end microscopes and other analytical tools that are shared on campus with other researchers. I also work with partners in industry and researchers from the US and Europe.
A lot of my research is done with industry partners at their sites. My team is currently working with a pulp mill outside of Kamloops where the company is using our geomaterials to construct a new road. We're also working on a project with the City of Kelowna on exploring applications for wood waste at their landfill. 
Image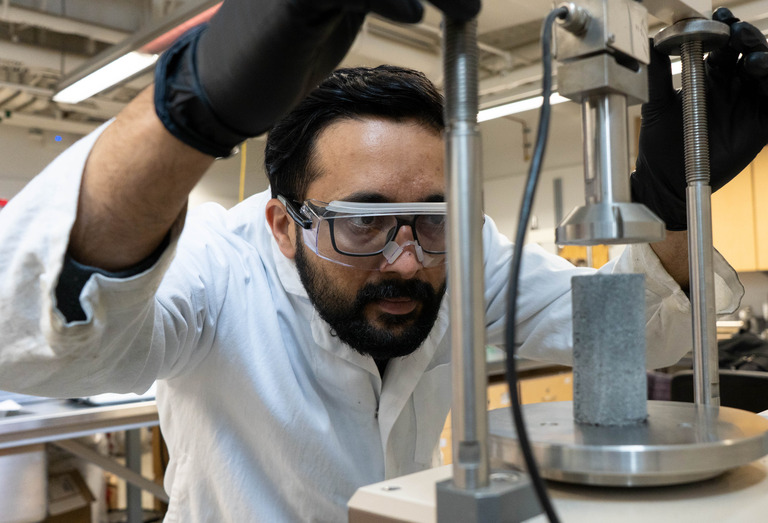 My work is exciting because I get to collaborate with people from microbiology, mechanical engineering and chemical engineering.
"Leading interdisciplinary projects expands my own knowledge. I'll have a vision for a project and what I want to achieve but I'll need to know enough about all the other disciplines to bring it all together."
Why is your research important? 
"The construction industry is a significant contributor to carbon emissions and climate change. My work is focused on reducing that impact."
Our landfills can be a significant source of pollution, including microplastics that can harm the environment and human and animal health. Finding ways to change the design of landfill containment systems could prevent microplastics from getting into our water.   
What courses do you teach?  
I teach core courses in civil engineering that are related to soil, including third-year soil mechanics and fourth-year foundation engineering. I also teach graduate-level courses related to my research areas, such as advanced characterization techniques for materials, such as the microbially induced calcite precipitation technique for ground improvement.
How does your research influence your teaching? 
"The textbooks required for courses cover the fundamentals of the subject. But fundamentals are not enough for engineers. We need to know how to apply this fundamental knowledge to real-world issues."
As a professor, I bring my researcher's perspective into the classroom and can share my challenges, experiences and solutions with the class.  
Anything else you want to share?  
"Students often think they have to work on something physically big – like a car, robot or tall building – to have a big impact. But you can have a big impact when you work on things that are physically small, like a micro-organism."
If you love what you do and have a feel for it, your impact can be huge – that small microbe can make a big difference in the world.
Watch Dr. Sumi Siddiqua speak at UBC Engineering Open House