Caelan Accili, Ben Alberga, Carla Conradie, Audrey Lee and Cameron Shepherd
Degree: Bachelor of Applied Science
Program:
Campus: Vancouver
The challenge
The Giant Mine in Yellowknife, which closed in 2004, has left a devastating environmental legacy that includes 237,000 tonnes of arsenic trioxide dust – a lethal and water-soluble substance that is stored in underground chambers. We were asked to design a year-round treatment plant to treat the groundwater that is contaminated with dissolved arsenic to make the water safe for release to Yellowknife Bay, which is the source of drinking water for the city and surrounding communities.
Our design process
There is currently a temporary system in place to treat the contaminated groundwater, but it can only run half the year – which is doubling the treatment time – and operates by pumping the water from the tailings ponds underground into storage tanks. However, we know that the arsenic trioxide waste will eventually find its way through groundwater movement up into a local water body.
Our plan is to take the groundwater – which currently has 49 mg/L of arsenic compared to allowed levels of 0.01 mg/L – directly from the underground reservoir, pumping up a flow of 2,600 m3/day through a C shaft into our plant for treatment. Our process starts with a flow equalization tank to provide stable flow for the downstream treatment process. The next steps are oxidation and precipitation, and clarification and filtration. A two-step ion exchange process first targets arsenic and antimony and then isolates zinc and lead. These chemicals are then sent to waste treatment and the treated effluent is pumped and discharged to Yellowknife Bay.
We developed a plant layout for our planned process that estimates water and energy requirements, as well as facility size and required labour. We also completed an economic analysis to estimate the capital and operating costs over the 20-year life of the plant.
Image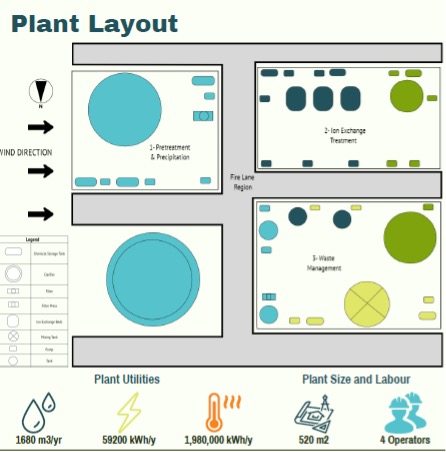 The social considerations of this project were very important to us, particularly given the history of this mine in the community. We developed a stakeholder engagement plan with Indigenous Peoples and residents, local government and regulatory boards.
Integrated Water Management at UBC
What excited us most
"It can be easy to get lost in the technical details. However, when you zoom out, the purpose of this project is very meaningful."
We generally relied on tried-and-true treatment options, but our proposed ion exchange process incorporates some new technological innovations. Learning about this process and connecting with vendors to learn more about the specifics of how it could be applied to this project was very interesting.
"This is impactful work and it aligns with our values and what we have been studying over the course of our environmental engineering degrees.
There are a lot of engineering details to account for when designing a treatment plant to ensure discharged water is safe to be released to the environment. We are developing a plan to remove toxic waste from water so it is safe to be discharged to watersheds and local communities. 
Our project's future
The federal government is currently managing the site and has a treatment plan in place. We may decide to send our final report and recommendations to the group currently overseeing the project