Rocky Guan, Muyang Li, Muhan Wang and Sam Xu
Community Partner: Aluula Composites
Degree: Bachelor of Applied Science
Program:
Campus: Vancouver
The challenge
ALUULA Composites is a high-performance material manufacturing company that creates composites with high tear and stretch resistance that are used in many products across a range of markets. Their new unreleased material Aeris claims to have the highest strength-to-weight ratio of any ultralight fabric. Aeris is made from a single polymer and is recyclable.
ALUULA is committed to environmental responsibility and wants to encourage customers to return products to them at the end of the products' lives for recycling and repurposing. They asked us to create a working prototype and manufacturing plan for a product of our choice that could be made from recycled Aeris and that would be commercially viable.
Our inspiration
We were all excited to work on a project that contributes to reduced waste and extends the life of a material for other useful purposes.
Each of us was inspired by different aspects of the project. 
Our design process
We began by brainstorming possible products and narrowing them down to seven. We then evaluated these using a Pugh Chart to assess profitability, manufacturability, market demand, sustainability and material properties utilization.
This process led us to select soccer shin pads as a potential product. Aeris is a lightweight, abrasion-resistant and stiff material – properties that are also highly desirable in shin pads. Our research revealed that there is a large market of customers for shin pads and that they are relatively easy to manufacture.
Once we'd decided on the product, we needed to deliver a working prototype and a manufacturing process to develop it.
Image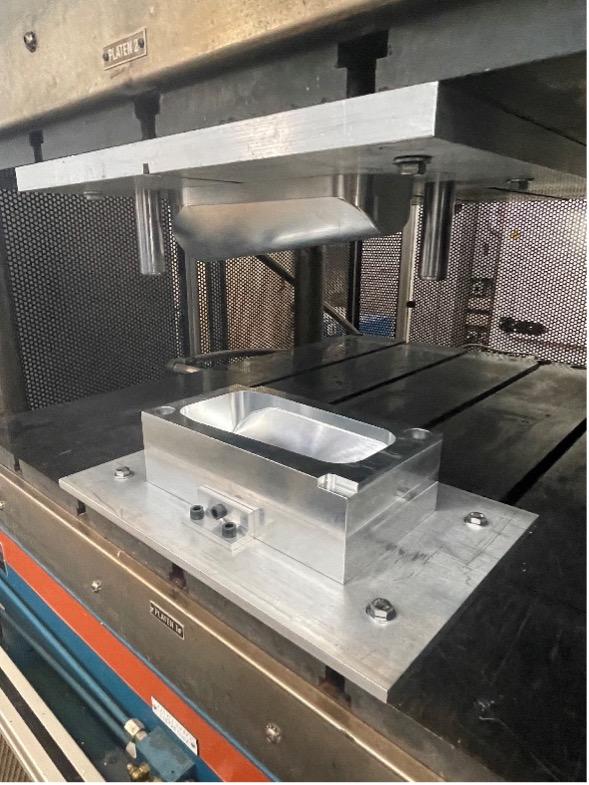 We conducted a series of hot press panel tests to produce a panel using recycled Aeris that met certain mechanical requirements. The initial tests were not successful and we needed to adjust our customized recipe for the hot press setup to obtain high quality panels.
We then developed a CAD model of the product mold, a CAD model of the prototype and produced the product prototype.  In addition, we developed a standard operating procedure and safety guidelines for manufacturing the shin pads; a proposed factory layout diagram that aligns with lean manufacturing principles; and estimated costs of production.
Image
What excited us most
It was fantastic to be able to work closely with this very cool composite material from ALUULA and to work with instruments and equipment that most undergraduate students do not normally have a chance to use, such as the hot press machine, the thermogravimetric analyzer (TGA) and differential scanning calorimetry (DSC).
Other aspects of this project that were very rewarding included seeing the progress of our idea from brainstorming concept to product; working with different testers and machines – including the hot pressing machine, Instron mechanical tester and fixtures (tensile, bending, compression), and the TGA and DSC; and recognition from both the client and our supervisor and feeling that we are creating value for the client.
What we learned
This project helped us develop our professional technical/engineering abilities and prepared us to handle real-world engineering projects.
Process control during manufacturing production is a lot more difficult than we expected. Even when the process parameters were well controlled, the final products were not always consistent. Each time we conducted tests, new issues arose and we learned how to improve the process for the next experiment.
Additionally, on top of the engineering decision-making and design cycles, this project helped us develop experiences in material testing, material property analysis, material manufacturing processing, mold design, administration and communication with a client. 
Our project's future
Our work shows that it is indeed feasible to recycle and reuse ALUULA's Aeris material at the end of its life cycle.
Our student engineering team will donate the group's hot press mold, product samples and manufacturing plan to ALUULA Composites. We hope that our work will provide a foundation for the client to promote their commitment to sustainability and extend the use of their materials by producing value-added products like shin pads or other items.