Both offer an outstanding education in engineering, with the main differences being the size of campus and program options. Learn more about the unique aspects of UBC Vancouver and UBC Okanagan and which could be the best option for you!
Setting you up for success in first year
First-year students at both campuses take a foundation year program. You'll study physics, chemistry, math, and English, as well as two engineering courses introducing you to design thinking and engineering concepts. These two courses are often a highlight for students, who say that the group design projects enabled them to integrate and apply their knowledge and come up with innovative solutions to real-world challenges.
At the end of first year, you'll apply to enter a specialized engineering program.
UBC Okanagan has four programs: civil, electrical, manufacturing or mechanical engineering. If you meet the academic requirements, you are guaranteed to get into your top-choice. Read more about second-year placement at UBC Okanagan.
Second Year Placement - Okanagan 
UBC Vancouver offers 14 programs. These include biomedical, chemical and biological, chemical, civil, computer, electrical, engineering physics, environmental, geological, integrated engineering, manufacturing, materials, mechanical and mining engineering. Some of these programs have limited enrolments, so your first-year grades will determine if you are accepted into your top-ranked choices. Read more about second-year placement at UBC Vancouver.
Second Year Placement - Vancouver
Learning the skills you need to succeed
Learning outcomes are the same for the four programs that are offered at both locations.
Read more about how studying engineering can set you up for success.
Image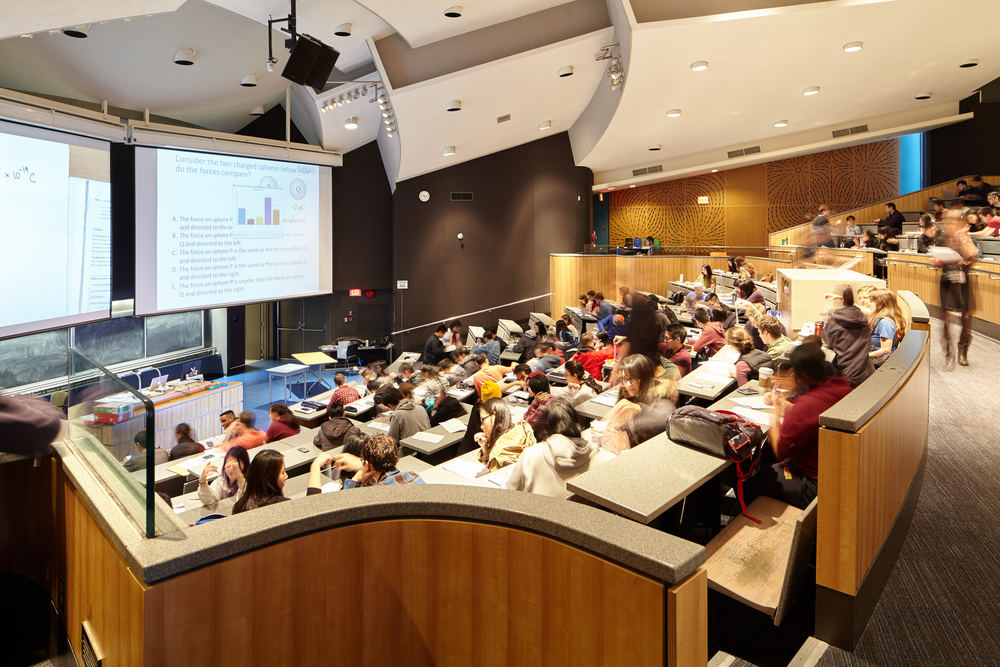 A difference of size
The main difference between the two locations is size. UBC Vancouver is home to 70,000 students while UBC Okanagan has 9,000. There are around 1,000 first-year engineering students in Vancouver compared to 300 in the Okanagan.
This leads to a different campus environment. UBC Okanagan feels more intimate and it might be easier to get to know your classmates. However, at both campuses, a focus on group projects and the encouragement to create study groups means you'll quickly connect with classmates.
Class sizes are actually hard to predict. Lectures for many first- and second-year courses will be large on both campuses (with your tutorial groups and labs being smaller). Depending on the program and course, you could be in classes with 20 or fewer people on both campuses, although this is the exception rather than the rule.
Kelowna and Vancouver have something for everyone  
Vancouver has a population of 675,000 (although the population of Metro Vancouver, which includes all the surrounding cities, is 2.5 million). Kelowna has a population of 143,000.
This difference in size means that the two cities are quite different. Vancouver has more of everything – distinct neighbourhoods, restaurants and cafes, nightlife, cultural amenities and shopping. While smaller, Kelowna is a dynamic and growing city with lots going on. Both cities offer easy access to a range of outdoor activities, from hiking and mountain biking to skiing and water sports.
As Kailey Beckie said about her choice to study in Kelowna, "I really like being at the Okanagan campus for the location, the views and the opportunities for rock climbing and other outdoor activities. Because UBCO is tied to UBC Vancouver, I feel like I have all the perks and opportunities of a big university without the stress of a big city or a big campus."
Applying for admission to UBC Engineering
When applying to UBC, you list a first and second choice for the degree you want to pursue and the campus you want to study at.
If your heart is set on engineering, we recommend that you list Bachelor of Applied Science (Engineering) as your program choice for both options and then list your first and second choice as UBC Vancouver or UBC Okanagan. You should plan to start your studies at the campus you want to graduate from. Only a handful of students are accepted to transfer within engineering from UBC Okanagan to UBC Vancouver each year.
If your desire to study at a specific campus is more important to you than your choice of degree, you could list a different degree option as your second choice. So you might list "Bachelor of Applied Science (Engineering) – UBC Vancouver" as your first choice and "Bachelor of Science – UBC Vancouver" as your second choice. Keep in mind that if you don't get into your first choice of engineering, it can be difficult to transfer into engineering in second year from another program.
No matter which campus you choose, to be accepted into the Bachelor of Applied Science (Engineering), you must meet the entry requirements.
However, given the number of students who list the UBC Vancouver campus as their first choice for engineering, it is more competitive to get into UBC Vancouver and you'll likely need a higher GPA than you would to be offered a place at UBC Okanagan. Find out how to apply to UBC Engineering.
Entry Requirements How To Apply 
Two distinct campuses: One exceptional education experience
As the top-ranked university in Canada for engineering in 2022, we offer our students a transformative learning experience with professors who are leading researchers in their field. Our students have opportunities to complete co-op terms with prominent organizations, work as researchers in award-wining labs as undergrads and collaborate with peers in student design teams and engineering clubs. Engineering students learn how to learn, use design thinking, explore their creativity in coming up with innovative solutions and make a difference in the world. We hope you'll join us!
Want to know more?